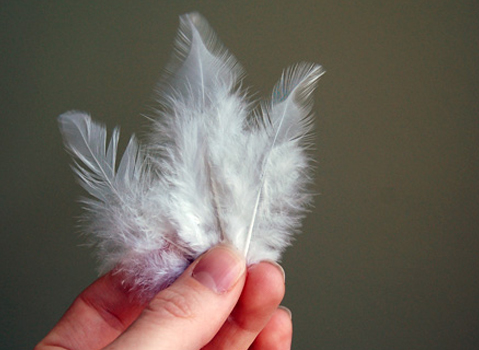 Feather Touch
Light, feather touch is one of the most effective ways to wake up the body and experience more sensual touch.  When we experience sensual touch we often feel sensations not only on the part of the body that's being touched but also in other parts of our body as well. 
For this practice you will need something soft that you can touch yourself with such as a feather, a silk scarf, or a fury mitt or slipper. Make sure that you have exposed skin to touch.  You can touch any parts of your body that you like although I suggest starting with your arms, legs, face and neck. For a more sensual experience you can do this with your clothes off.  It's also loads of fun to do with a partner, taking turns touching each other with a feather. 
You can download the audio file here by right clicking and then click "save link as" or just click below to listen now.
Questions to Consider and Comment on our Facebook Page
How easy or hard was it for you to connect with this touch?  Did you remember to breathe while touching yourself?  Did this feel sensual to you at all? Did you get goose bumps?  Where did you feel sensations in your body besides the places that you were touching yourself?